In music, scat is a vocal improvisation technique. Outside of music, scat is…well, look, we're going to be talking about the vocal improvisation technique.
Scat (the musical style, stop giggling) gained prominence in the 1920s, but quickly became less prominent. That changed for about three minutes in 1994, when Scatman John (John Paul Larkin) released "Scatman (Ski Ba Bop Da Dop Bop," an upbeat dance tune that featured these lyrics:
Bop ba bodda bope / Be bop ba bodda bope / Bop ba bodda
I'm the Scatman
Bop ba bodda bope / Be bop ba bodda bope / Ba-da-ba-da-ba-be bop bop bodda bope
Bop ba bodda bope / Be bop ba bodda bope /Bop ba bodda
Ba-da-ba-da-ba-be bop ba bodda bope
(Yeah, I'm the Scatman)
But was Scatman John actually the Scatman? He never makes that clear.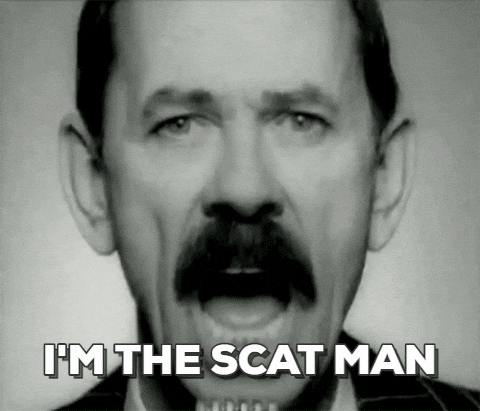 Okay, fine, he says he's the Scatman about a thousand times, but there was already a Scatman. You can't just declare yourself Scatman. That's a title you have to earn.
The other Scatman was, of course, Scatman Crothers, best known for his extensive voiceover work in the 1970s (he was the title character in Hong Kong Phooie and Scat Cat in The Aristocats) and his excellent performance in Stanley Kubrick's The Shining. Crothers is the guy who flies across the country to get axed by Jack Nicholson.
https://giphy.com/gifs/door-vacation-certain-qav3a2OPBdZoQ
So, which of the two singers is the real Scatman? According to legend, there can only be one Scatman on Earth at a given time. If there are two, they must meet, scat at each other, and fight to the death. Alternately, a lame internet writer can arbitrarily decide to declare one of them Scatman, and that's where we come in.
We decided that this is as good of an excuse as we'll ever get to write an article about these two scatmen and rate them as if we know anything about scat.
Strap in, because we're going to be scatting all over the place. You can practically smell the scat already, can't you?
Scatman John had an inspiring story (and awful music). 
There's not really a nice way to say this: Scatman John's music is horrible. It combines scat singing with "modern dance music and hip hop effects," per Wikipedia. We imagine that whoever wrote that thought that it was an impressive blend of genres, but scat isn't really a genre, and "hip hop effects" could mean literally anything. That's like saying that your music "combines a trumpet with nu-metal and the sound of a cat dying." 
But we'd be lying if we said that "Scatman (Ski-Ba-Bop-Ba-Dop-Bop" isn't an earworm, and it was the culmination of Scatman John's lifelong goal to make as much money as possible in the dumbest conceivable way. In a way, the song is emblematic of the blind optimism of the '90s. In another, more real way, it's what happens when a middle-aged cruise ship pianist realizes that he can go "bop-be-bop" really fast.
This Scatman — real name John Paul Larkin — was a California native who reportedly suffered from a severe stutter throughout his entire life. As a kid, he learned jazz piano, saying later that he "hid behind [the] piano because I was scared to speak." 
In the 1980s, Larkin was playing piano on cruise ships when he began singing during his performances. Here, we're just going to quote the Los Angeles Times:

Larkin had an unusual ability to sing chords with as many as four notes at a time, a technique he likened to ancient Hindu throat singing. 
Uh, right. Sure.
He also started scatting, using his natural stutter to spit out syllables at unbelievable speeds. His agent reportedly convinced him to adopt the "Scatman" moniker and to leave the world of cruise-ship jazz for the raw, exciting world of '90s novelty music.
"My greatest problem in my childhood is now my greatest asset," Larkin said in 1996. "I'm trying to tell the kids today that Creation gave us all problems for a purpose, and that your biggest problems contain a source of strength to not only step over those problems, but all our other problems as well."
That's legitimately inspiring. Granted, Scatman John is the definition of a one-hit wonder, but he was able to turn a weakness into a strength, and that's commendable. 
John's music discussed a variety of topics, including how good he was at scatting, how much he liked scatting, whether or not you could call him the Scatman, and whether or not he was about to start scatting. 
He also recorded a song with the late Louis Armstrong, who is generally considered the father of scat singing. It's weird.
You might think that it's sort of crass to record a "collaboration" with a dead singer, but after Scatman John passed away, "Mambo No. 5″ singer Lou Bega returned the favor with "Scatman & Hatman," a song based on the premise that we know Lou Bega as "the Hatman" and not "that guy who sang 'Mambo No. 5.'"
The intro to that song is now our ringtone.
We'll write a deep dive on Lou Bega at some point, but "Scatman & Hatman" is a fitting tribute to Scatman John's legacy. It's the type of tune that makes you go, "oh, huh? What? Oh, okay. Weird."
But Scatman's greatest work is undoubtedly "Song of Scatland," ostensibly a Christmas song that features Larkin walking on water while discussing his vision of utopia.  In his world, there's nothing but peace and love, every child grows up in a safe environment, and everyone speaks to each other in scat. Also, a dolphin tries in vain to get out of a swimming pool.
However weird you think "Song of Scatland" might be, you're wrong. It's weirder than that.
Notably, the song contains no actual scatting until the last 30 seconds or so. That scatting is some of John's most emotional scatting. It is his masterpiece.
Whatever else you can say about Scatman John, the guy really, really liked to scat.
Scatman Crothers was one of the most prolific actors of the 1970s.
The other famous Scatman was — and we're really not trying to insult Scatman John here — good.
Benjamin "Scatman" Crothers also started his music career in his teen years, playing in speakeasies before forming his own band at an Akron, Ohio hotel. He went on USO tours with Bob Hope, then started a career as an actor. 
Soon, Crothers was an inescapable presence, though he rarely took center stage. He appeared in 46 films and at least 84 television shows, occasionally scatting when the situation called for it (unfortunately, he never actually scats in The Shining, but we think that would have added some flair).
He also became a successful voice actor, and you've almost certainly heard his work without realizing it. Crothers played Autobot Jazz The Transformers shortly before his death, and again, we have to note that he was the voice of Hong Kong Phooie, which really hasn't aged well. 
While he had no qualms about taking small acting roles, Crothers' music was often uncompromising and fierce. Under the alias The Ramparts, he sang one of the first recordings of "The Death of Emmett Till." 

He wasn't directly involved with the Civil Rights movement, but Crothers was vocal about his experiences as a black entertainer throughout his career. He also experimented constantly, drawing from jazz, folk, blues, and rock influences to build a formidable discography.
Crothers never stopped performing, even composing a song about Stanley Kubrick on the set of "The Shining." Oh, yes, since you asked, there is a recording.
Granted, we're trying to write a lighthearted piece about scat, but we can't ignore the fact that Scatman Crothers was fearless, talented, and inspiring — but remarkably humble.
"I got simple tastes," Crothers said in a 1975 interview with The Beacon Journal. "Don't go in for all that flashy business. I tell other people: You don't go by what somebody drives or wears. You can be dressed the best and have a wicked heart."
Scatman Crothers was good at scatting, but that wasn't the most important component of his career. He has a star on the Hollywood Walk of Fame, an NAACP Image Award, and various other credentials that don't involve making weird mouth sounds.
Our verdict: Scatman Crothers was the real Scatman.
If you're of a certain age, you think of Benjamin Crothers when you hear the phrase "Scatman." He made the nickname famous, and Scatman John was just riding on Crothers' coattails. We suppose you could have two scatmen, but who needs that much scat in their life? 
With that in mind, Scatman Crothers was clearly the more accomplished artist, and while he might not have scatted as quickly as Scatman John, that's a dumb way to judge musicians. Crothers' art has depth and nuance — Scatman John's not exactly a nuanced guy, and if he were still with us, he'd probably be the first person to admit it (after skiddy-be-bop-bop-boppin' for a few unbearable minutes).
But Scatman John was inspiring, both to people with speech difficulties and to this Japanese lady, who seems unaccountably unenthusiastic about her own performance.
Unfortunately, neither Scatman is around to defend the title. In a strange coincidence, both died of lung cancer; Crothers passed away in 1986, while John Larkin died in 1999. For the last two decades, we've lived in a world without a well-known Scatman.
Hopefully, there's another Scatman out there, waiting in the wings and thinking of ways to bring scat to the new generation.
Or, y'know, not.